Registered Psychotherapist (RP), and Canadian Clinical Counsellor (CCC)
My interest in supporting others started in high school when I had the privilege to volunteer at an organization that provides animal assisted therapy to young children with varying degrees of ability. With equestrian therapy, I was able to witness children becoming more confident as they bonded with their animals and started to feel a level of safety as they connected and felt supported by their horse.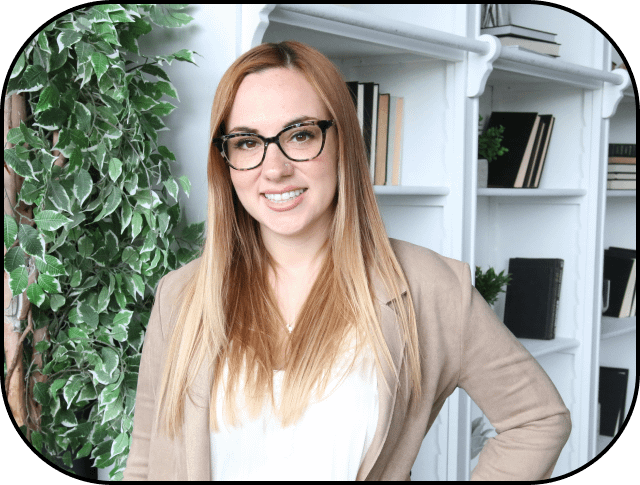 To play a small role in this experience is what sparked a passion for me to help others find that same safety, connection and healing through whichever means of therapy best suits the client. When I am not working with clients I often spend my time with my partner, Logan and our dog Luna. We developed a love of hiking while living in Vancouver, and in November 2019 we had the privilege to hike in the Himalayas and up to Everest Base Camp! It was a truly unforgettable and grounding experience, and now I make it a priority to get back to nature when I can. I look forward to meeting you!
MA, Adler University
Masters of Counselling Psychology
RP, College of Registered Psychotherapists of Ontario (CRPO) Registered Psychotherapist
CCC, Canadian Counselling and Psychotherapy Association (CCPA) Canadian Certified Counsellor
ANXIETY | BIPOLAR DISORDER | CAREER GUIDANCE | CHRONIC ANXIETY | CHRONIC PAIN | DEPRESSION | DIVORCE | FAMILY CONFLICT | GRIEF | INFIDELITY RELATIONSHIP ISSUES | SELF-ESTEEM | SELF-HARM | SEX THERAPY | SEXUAL ABUSE SLEEP ISSUES | STRESS MANAGEMENT | SUICIDAL IDEATION | TRAUMA & PTSD | WOMEN'S HEALTH
My name is Alyssa, and I am a registered Psychotherapist (RP) with the College of Registered Psychotherapists of Ontario (CRPO), as well as a Canadian Clinical Counsellor (CCC) licensed with the Canadian Counselling and Psychotherapy Association (CCPA). I completed my Masters degree in Clinical Counselling Psychology at Adler University in Vancouver, Canada.
I have had the privilege of working with clients from an age-range of twelve to eighty-five, all from different backgrounds, experiences and walks of life. Throughout my career, I have had the opportunity to work with a wide variety of presenting problems, and adapt my skills as a psychotherapist to meet who I am working with, where they are.
I started my practice, True Roots Therapy in early 2021 in the midst of a global pandemic. I could feel the need for empathy, kindness and validation more than ever, and I made it a goal of mine to ensure that support was available for those who needed it. I have always believed that therapy should be accessible for everyone and anyone, which is why I offer sliding scale rates. For more information or resources, please feel free to reach out.
Sign up for my newsletter: